Dear America,
Don't feel bad. We've all done it. We've all had that significant other that was cool but we kept wondering if there something else just a little bit better out there? That "good" man or woman that was rock solid but you just couldn't help but wonder "what if?" FOMO (Fear of Missing Out) is real. Even when you have a bird in the hand, you think there's an exotic peacock in the bush you just wanna holla at for a second. So you toss away the good thing you had and find out what's REALLY out there in the streetz. How is that working out for you? FOMO got you like:
Umm. Hmmm. You should feel bad, America. You had the hottest guy in the game wearing your chain (h/t to Jay-Z) and you thought you were gonna upgrade. Instead, we went backwards. Way backwards. And it sucks. In fact it stings. Every time we see a pic of Obeezy out there living his best life, we're happy for him but still feel that pinch... we had it and we let it go.
Remind me America, what was so bad about the America Obama created? The good far outweighed the bad. I mean you went from a dude that might leave the seat up every now and again to a dude that shits all over everything.
Remember the nerve of Obeezy to put his feet up on the desk in the Oval Office? (Even though it was his desk and he earned the right and... never mind) Yeah, that seems like halcyon days in comparison to folks straddling sofas in the Oval Office or rumors that Le Donald is running around placing his naked butt cheeks on heirlooms. (Literally buck ass naked on the Jefferson chaise or some such nonsense. Just ugh!)
All that indignation that Obama spent too much money going to Hawaii? Hmmm, not like he was flying questionable folks into Florida at $50k a pop to stay at a Drumpf owned resort?
All that uproar about the Obamas flying off to New York for date night? As opposed to paying $700k a week so the new First Lady ain't got to see her bloated-ass husband every night?
Remember when they called Obama elitist because he liked arugula? Now you got a dude who can't spell arugula. They said Obama was too much rock star not enough substance. Now we got a guy who tweets out repugnant thoughts at 2:00am? Even those "give Drumpf a chance" folks are dismayed by the lack of civil discourse, the overwhelming entitlement and the flagrant ignorance oozing out of the West Wing. Check out highlights from this weekend's impeachment demonstrations. Yes, impeachment demonstrations: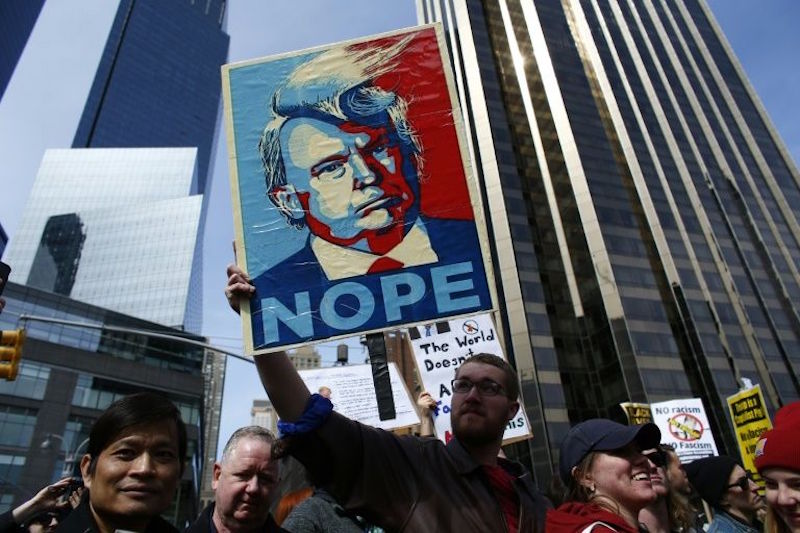 I'm afraid you can't get your boyfriend back, America. But let's do what we can to kick this one out of the house and next time? DO BETTER.